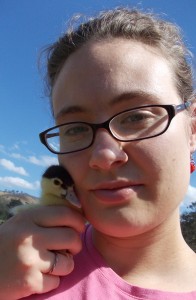 At 20, I am a born again Christian and am enjoying my life. I have a great part time job as an optical assistant in Laidley and in my spare time can be found getting my fingers dusty and dirty churning out colour pencil and pastel paintings. Occasionally I'll use acrylics to add variety.
Sculptures are also a passion for me. In 2011, I discovered Paverpol®, a water proof/resistant fabric hardener, with which I can create beautiful sculptures. I am a Accredited Paverpol® Workshop Instructor.
I also have a store on Zazzle. When I am not working, painting or zazzleing, I am pursuing my other passions-chooks and reading. My feathered friends give me much enjoyment. To relax, I love to sit in a comfy chair and read; usually history is a firm favourite, especially about royal families across the world.
Painting has always been a big part of me. In January 2011 it seemed the most natural to start painting more seriously. In June of that year, I was offered the job in Laidley, and since then I have painted around my work.
I am inspired by the world around me. Listening to artists talk about their art and by looking artwork is another way I get inspired. I have my own unique style, influenced only by those who have taught me, namely my mother, Jaana Day, who is herself an artist, and a very good one too. I have also been taught by Sally Mclean Penelope Gilbert – Ng, and a few others. I am also a member of the Laidley Art Society Inc.
If you have any questions about my art, please feel free to ask.
https://www.facebook.com/EmilyClaraDayArtist
http://www.redbubble.com/people/artbyemilyday
http://www.zazzle.com.au/emilyclara*
For more info on Paverpol®, visit the Paverpol® Australia website:
www.paverpolaustralia.com
Fellow Artists I have learnt from:
https://www.facebook.com/JaanaDay
https://www.facebook.com/SallyMcLeanArtist
http://www.penelopegilbertng.com/